Thin-cutting frame saws are used in the production of veneer slats/lamellae for the wear layers used on engineered flooring, stiles and rails, etc.  The frame saws use multiple, thin blades that produce a smooth finish, ideal for face-glueing.  Because of the thin kerf blades, the frame saw is able to cut accurate veneer slats with less waste (up to 30%), ie. instead of getting 4 veneers out of a given block you may get up to 6 veneer slats. This is especially important when cutting more expensive woods such as oak, mahogany, maple, cherry and other exotic species.  An optional channel guide allows for feeding up to 5 blocks of wood through the machine simultaneously.
Some of the more common industries where a frame saw can be found would include door companies who are making engineered stiles and rails, companies who are making radial half rounds for windows and doors,  companies who are making engineered flooring, furniture companies, musical instruments such as guitars and a variety of other industries.
See all of our Thin-Cutting Frame Saws models below.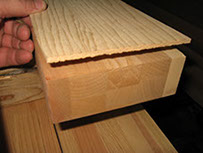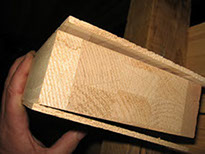 ABOUT
The Power Plus Thin-Cutting Frame Saw provides a high performance and quality machine for the production of veneer slats/lamellae. The machine has a sturdy, solid cast iron base and is equipped with a 15kW (20hp) main motor. The frame saw cuts solid wood blocks into glueable slats with minimum saw kerf waste. The machine can run products up to 165mm in width (6.5") and 250mm in height (10").
MACHINE EQUIPPED WITH:
Automatic raise/lower of top feed rollers via push button
Driven top and bottom feed rollers
Dust free enclosed gear boxes
Side or center guide system
Cast iron carriage
Air blast system
OPTIONS:
Wet/green lumber cutting option
Channel guide system
Top/bottom planer
Hopper feed
MACHINE DIMENSIONS
Length 2472 mm (103")
Width 800 mm (32")
Height 1800 mm (72")
Weight 3000 Kg (6600 lbs)
ADVANTAGES
Affordable Price
Play-Free linear guides for smooth carriage movement
Easy access for saw frame changing
Automatic central lubrication system
Solid cast iron machine construction
Precision stop/start feed system
Adjustable chip breaker
Solid Steel Crank Arms
SPECIFICATIONS
Strokes per minute: 450
Cutting height: 250 mm (10")
Cutting width: 165 mm (6.5")
Min. material length: 300 mm (12")
Saw blade kerf: from 1.1 mm (0.043") to 1.6 mm (.053")
Min. slat thickness: 2 mm (0.08")
ABOUT
The Orbit Thin-Cutting Frame Saw was developed for cutting solid wood blocks into glue-able slats with a minimum of saw kerf waste. The Orbit utilizes a unique up/down method of movement for cutting veneer slats. Unlike conventional frame saws that move up and down in a lineal motion, the Orbit uses a patented swing-out motion at the bottom of the saw stroke.
During the down stroke of the saw frame, the cutting motion is perfectly lineal. At the bottom of the stroke, the saw frame swings out of the cut in the same direction that the wood is moving. Once the saw frame has retracted out of the cut, the frame travels back to the top, remaining out of contact with the wood during the entire upward motion. The saw frame then once again begins its lineal downward cutting motion.
This unique movement has several distinct advantages over the frame movements on older, conventional frame saws. With a conventional thin cutting frame saw, a great deal of heat is generated by sawdust that is captured/packed into and around the saw blade teeth. This occurs because the sawdust and wood chips are unable to clear out from the blade during the upstroke. This fact is especially true when cutting high, as some of the teeth in the center of the saw blades never clear out of the cut. Because the Orbit saw frame moves out of the cut during the upstroke, wood chips and sawdust fall clear from the saw blades. The result is less heat build up on the saw blade, longer saw blade life, dust free slats, and the ability to use a thinner kerf saw blade.

MACHINE DIMENSIONS
Width: 1100 mm (43")
Length: 2472 mm (97")
Height: 2022 mm (79")
Weight: 3500 kg (7700 lbs)
MACHINE EQUIPPED WITH
Saw frames for cutting up to 250 mm high according to customer requirements (10")
Complete sets of spacers (according to customer's size requirements)
Complete sets of Saw Blades and Hoggers (according to customer's size requirements)
Precision torque wrench (200 Nm) 147 foot-pounds
Adjustable chip breaker
Air blast system
Automatic raise lower of the top feed rollers via electrical push button
Setup frame change device with Dial Indicator and Lineal Slide System
Digital feed speed indicator
Automatic opening of the machine for frame and safe change over of saw frame
Automatic central lubricating system
SPECIFICATIONS
Voltage 480 V 60 HZ
Main Motor 15 kW (20HP)
Feed Speed 0.3-1.5 m/min
Strokes per minute 450 strokes/min
Cutting Height Adjustable 50 - 250 mm (2" to 10")
Cutting Width with center guide 2 x 25 mm to 70 mm
Cutting Width with side guide 1 x 60 mm to 150 m
Saw Kerf .9 mm to 1.35 mm .036" .055"
OPTIONS
Wet/Green Lumber Cutting Option
Channel Guide System
Top/Bottom Planer
Hopper Feed
Orbit 350 Model for cutting up to 12"
Oiling Misting System
ABOUT
The Mamuth is a heavy-duty version of the thin-cutting frame saw developed for lumbers up to 220 mm wide and up to 400 mm in height. The machine has a sturdy, solid cast iron base and is equipped with a 22kW (30 Hp) main motor.
OPTIONS
Modular Infeed can accommodate a center guide, side guide or channel system.
Green Lumber Cutting Option.
Top and Bottom Planer
Automatic Hopper Feeder
MACHINE DIMENSIONS
Length 3300 mm (130")
Width 1000 mm (40")
Height 2300 mm (91")
ADVANTAGES
High precision lamellae, glue-able surface, tolerance ± 0.2 mm (at the full height)
Feed roller movement is synchronized with the up/down movement of the saw frame.
Automatic Opening of the machine for safe and easy removal and installation of the saw frame.
Solid cast iron machine construction minimizes vibration.
Sturdy and durable Cast Iron Saw Frame Carriage.
Top and Bottom Driven Feed Rollers.
Automatic Central Lubrication Unit.
Solid Steel Crank Arms.
SPECIFICATIONS
Stroke: 250 mm
Strokes per minute: 400
Cutting height: 250 mm (10") or 400 mm (15")
Cutting width: 220 mm (8.6")
Min. material length: 250 mm (10")
Saw blade kerf from 0.9 mm (0.035") to 1.4 mm (.055")
Min. slat thickness: 2.0 mm (0.080")
Feed Speed: 0.2 - 2.0 m/min. (0.6 - 6.6 ft/min)
Main Motor: 22 kW (30 Hp)
ABOUT
Ogden Sales Group provides saw blade sharpening services to all customers using frame saws and re-saws. Ogden also offers a CNC Grinder to those customers who prefer to do In-house grinding. With the Ogden CNC Grinder, the grinding cycle is controlled via CNC servo motors, ensuring that the saw tooth dynamics remain consistent. The grinder incorporates a coolant reservoir and spray system which helps to keep the saw blades cool during grinding.
TECHNICAL SPECIFICATIONS
Length of the saw blades: 200 - 1000 mm
Thickness of the saw blades: 0.5 - 3.0 mm
Tooth pitch: 3 - 45 mm
Tooth depth: max. 15 mm
Face angles: 0° - 30°
Back tooth angles: 0° - 20°
Cycle time: max. 50 teeth / min.
Grinding wheel RPM: 3800 RPM
Grinding wheel diameter: 150 mm
ADVANTAGES
Coolant reservoir and flood system
Roll Support System for easy and accurate feeding
Ease of loading and operational setup
CNC accuracy for consistent sharpening
MACHINE DIMENSIONS
Width 1011 mm (40")
Length 1073 mm (42.25")
Height 1271 mm (50")
Weight 350 kg (775 lbs)
VIDEO
Thin Cutting Frame Saw Grinding Machine