PUR Flooring Press Systems
This is a high volume and heavy duty roll press for the lamination of engineered flooring which uses fast curing PUR adhesives. The press is constructed with a window style steel frame and precision machined lineal steel beams forming a sturdy frame base for applying maximum pressure on the wear layer.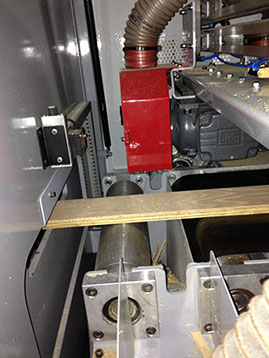 Specifications
Laminating width: 2¼" - 12½"
Laminating length: 36" – unlimited
Lamination Thickness: ¼" – 2"
Feed speed: 20 to 80 ft./min
Optional Equipment
Hot Drum melter
PUR hot roll glue applicator
Substrate automatic in-feed system
Automatic in-feed veneer feeder
Flying cut off saw
New Products for the PUR Flooring Press System
The RVF 75R, Random Length Veneer Feeder, provides a method to automatically select and position random length veneer onto the plywood substrate. The robot automatically selects the veneer length so that the veneer joints are not in the same proximity as the plywood joints.
For additional information, please click here.